This article originally appeared on CNNMoney.com.
By James O'Toole @CNNMoney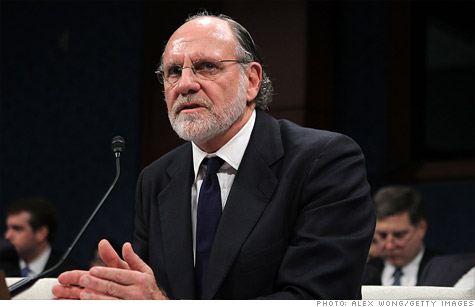 Jon Corzine testifies before Congress last month.
NEW YORK (CNNMoney) — What do farmers in Montana, traders in Chicago and a pension fund in Canada have in common?
They're all among the litigants who have filed suit against Jon Corzine in the wake of the MF Global failure.
The firm filed for bankruptcy in October after disclosing $6.3 billion in bad bets on European sovereign debt, spooking investors. It has since emerged that roughly $1.2 billion in MF Global customer funds are missing, with federal regulators, law enforcement and the brokerage's trustee still trying to determine their whereabouts.
In the meantime, stockholders, bondholders and customers are all trying to recoup their losses by getting a piece of Corzine, MF Global's former CEO. While firms in bankruptcy are generally protected from lawsuits, that hasn't stopped suits targeting Corzine personally.
The Montana suit, filed Monday as a class action on behalf of all 38,000 MF Global account holders, alleges that Corzine and his lieutenants presided over the looting of customer securities and futures accounts at the firm.
Many farmers rely on futures accounts to protect against volatility in crop values, posting collateral in their accounts when they lock in contracts to deliver crops in the future at a set price. Traders, meanwhile, use futures to speculate on commodity prices.
In a separate suit, MF Global stockholder Joseph DeAngelis accuses Corzine and other executives of making "materially false and misleading" statements regarding the firm's liquidity and risk profile. U.S. district judge Victor Marrero has combined this suit with similar complaints by plaintiffs ranging from an investment firm in California to the Philadelphia city pension board.
A spokesman for Corzine, a former Goldman Sachs (GS, Fortune 500) CEO, declined to comment. His lawyer, Andrew Levander, did not respond to a request for comment.
Corzine, also a former senator and governor of New Jersey, left Goldman in 1999 with net worth estimated in the hundreds of millions. Just weeks before MF Global collapsed, he and his wife were chateau-shopping in the south of France, according to Vanity Fair magazine.
"When you have an individual who has very deep pockets, then certainly lawyers that are pressing claims are going to be looking for some reason as to why that CEO or shareholder might be possibly liable," said David Epstein, a resident scholar at the American Bankruptcy Institute.
In testimony before Congress, Corzine has acknowledged pushing the firm's risky investments in European debt but has denied ordering anything unlawful, including the misuse of customer funds. Although investigations of the firm remain in progress, neither Corzine nor any other staffers have been accused of wrongdoing.
For customers, the lawsuits offer one more line of attack as they fight to recover their money. Some, though, are wary of such large-scale actions, said John Roe, a partner at BTR Trading Group who has advocated on behalf of MF Global customers.
"I think it's totally legitimate to sue the board of directors and Corzine," Roe said, though he added: "Generally, the way these things play out is that the people in the class action get coupons for a free pizza and the lawyers get all the money."